ST. PAUL, Minn., July 14, 2022 – The AgriBank District Farm Credit Council (ADFCC) has recognized U.S. Rep. Angie Craig of Minnesota to receive its 2022 Friend of Farm Credit Award. Craig, a member of the House Agriculture Committee, received the award for her important work on behalf of rural communities, agriculture and the Farm Credit System, a national network of customer-owned cooperatives.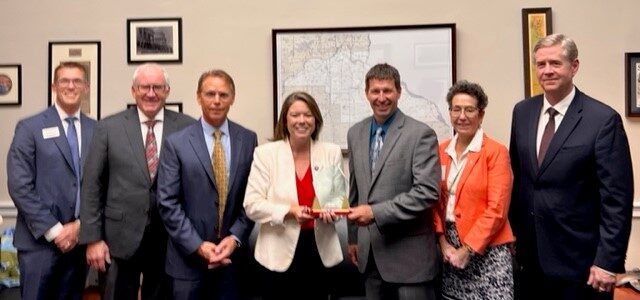 "Congresswoman Craig has demonstrated strong support for the Farm Credit mission and investments that support healthy rural communities, such as critical access hospitals and senior living facilities," said Dan Erickson, a farmer from Alden, Minn., and a Compeer Financial board representative on the ADFCC. "She is a standout among her peers, and we are honored to celebrate her as a Friend of Farm Credit and a friend of rural America."
"Every day, Farm Credit institutions and the family farmers they support in the Second District work hard to strengthen our agricultural and rural communities," Craig said. "It is an honor and a privilege to represent the hardworking men and women of this industry in Washington. I'm grateful to receive the 2022 Friend of Farm Credit Award—and I will continue to fight each day for the agricultural and rural communities in Minnesota's Second District."
Compeer Financial is one of the local Farm Credit Associations that comprise the AgriBank District along with AgriBank. The ADFCC represents Farm Credit farmers and ranchers in a 15-state area from Wyoming to Ohio and Minnesota to Arkansas. About half the nation's cropland is located within the AgriBank District.
Farm Credit supports rural communities and agriculture with reliable, consistent credit and financial services, today and tomorrow. It has been fulfilling its mission of helping rural America grow and thrive for more than a century with the capital necessary to make businesses successful and by financing vital infrastructure and communication services. For more information, visit www.farmcredit.com.
MEDIA CONTACTS
John Share, AgriBank
(651) 282-8634 or John.Share@AgriBank.com
David McGonigal, Office of U.S. Rep. Angie Craig
(202) 819-0077 or David.McGonigal@mail.house.gov